So, because of situations beyond my control I am skipping around some. Rather than continue to tell Andrew and I's love story, I decided I will take a break and discuss plus size lingerie. There are some lovely options out there and something for everyone. My husband and I had a good time looking over a few of my favorite sites to show you what we found. However, before I share all that "fun" with you I have a few outfits to share!
My Outfits
Last week I really looked good! I got several great things from
Gwynnie Bee
that I loved. The first look is a floral pencil skirt by Kiyonna I got from them. The blouse and jewelry were my own. I got the blouse for Christmas. It was a great J C Penney find!
This American Rag jacket I'm wearing also came from
Gwynnie Bee
. I loved this one so much I bought it. I HAD to have it. The Asian floral design is so me! The rest of my wardrobe was pulled from my usual closet collection.
Although today's outfit sadly had no Gwynnie Bee in it, I think it looked lovely as well.
Sweet and Sexy
Many curvy ladies have a hard time accepting their body and even harder time enjoying it. I have learned over the years in my marriage that I like rocking a sexy piece of lingerie. I also feel more romantic in a lacey little nighty. I wanted to share with you a range of some of what I found. Hopefully it will inspire you to break out a little something of your own!


Babydolls
Best Red Hot Baby Doll
Luscious in Lavender and Lace
Chemises
Compelling Liquid lame and lace chemise
Corsets and Bustiers
Appealing wild orchid bustier set
satin jacquard corset
(My personal favorite corset)
Daisy embroidered basque Corset
This was actually the corset I wore under my bridal gown (in white of course!)
The Everyday
Soft and comfy tank dress with lace back
super soft and sexy lace trim chemise
Dare I add.... the play things?!
These can all be found on
Hips and Curves
.
If you are interested you can also find all the 50 Shades of Grey gear on
Hips and Curves
as well.
Other Naughties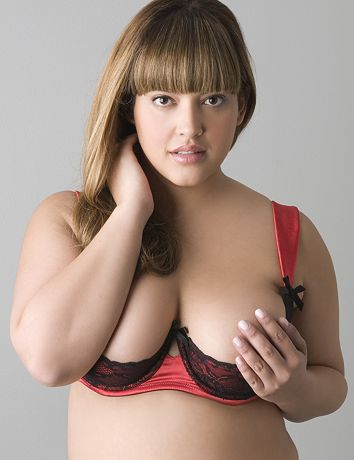 Lace Quarter Cup bra
Thoughts from the man behind the blogger:
My husband says since most of these were picked by him that other guys should approve.
Other sites you can find Lingerie include
Torrid
and
Big Gals Lingerie
. Have fun!