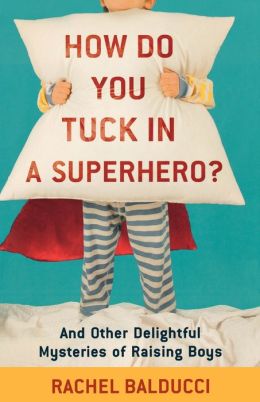 Over my vacation I read
How Do You Tuck in a Superhero?
by Rachel Balducci. My expectations were completely opposite from what I got, but that ended up being a GOOD thing. I went into the book expecting a true "self help" style book. What I got was real life stories that gave me a true look into the life of raising boys.
Her stories were honest and real. Many made me laugh out loud, while others brought me to tears. It is a very enjoyable read. She uses a dose of humor to share what the crazy life of raising five boys is like.
One of my favorite things is the small quotes she includes throughout the book from her boys. You really feel like you are getting to know her and her family.
If you are raising (raised) boys of your own, you will relate and enjoy her book. It gave me some insight of what my boys may be like as they grow. I find this especially helpful since my oldest is only two. I look forward to finding and reading more books from Rachel!
My Life Raising (and) Living With Boys